The Vets1Laser is a superb Class IV laser and we have used it in our own Clinic for 2 years. We are so impressed with the results that we now distribute the Vets1Laser to Veterinary Hospitals and Clinics in Australia, New Zealand and elsewhere.
The Vets1Laser 30W is able to provide a wide range of applications and to provide the maximum therapeutic capability in the least possible time. The Vets1Laser can provide Laser Therapy and Laser Surgery all in the one device.
The Vets1Laser includes the optimal wavelengths: 810nm/980nm, with interchangeable handpieces so this laser can be used in dentistry, dermatology, surgery and Photobiomodulaton therapies(Laser Therapy) for Rehabilitation in a variety of disease processes(see below)
Read on to see how good this machine is and then call us for prices and availability.
The Vets1Laser normal price is already approximately 40-50% less than the cost of similar Class IV Laser devices currently available in Australia, and the others may NOT have the 30W output capability OR the ability to do Laser Surgery. Click HERE to see how reasonable the investment is for this multi function Laser machine. It makes it easy for you to add a new tool to your pain management at a reasonable fee AND pay for the investment within 12 months. Why pay any more?
If you want to invest in a profitable new piece of equipment and claim the deduction this year you need to place an order soon.
The latest model includes these excellent new features:
New Android software, to simplify the use of settings and saved protocols(incluidng Favourites and individual Rx Records. Additionally we can upgrade the laser online, no need to send the laser back to us.

A new high-resolution flat screen to configure the Android software. (The older design is an embedded screen).
An optional internal battery- at average power 10Watts, it can work 43minutes, at 12 watts, it can work 27 minutes, at 15Watts, it can work 21minutes. This is average power, continuous mode. If you set peak power and pulse mode, it will last longer.
If you want to save even more we will soon have ONE (only) used Vets1Laser machine available for much better price. Call us for more details and get in quickly or will be gone.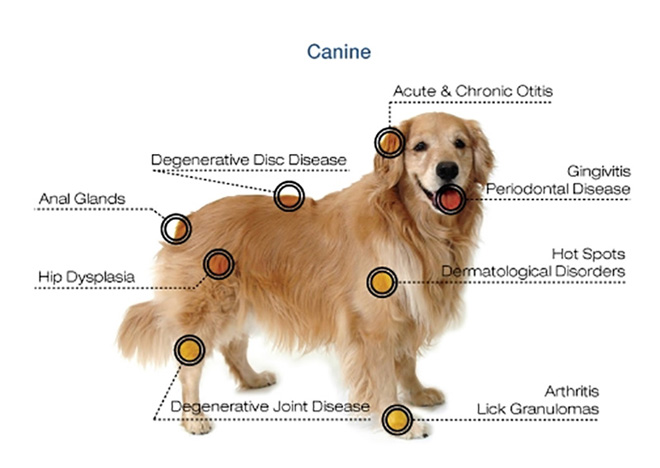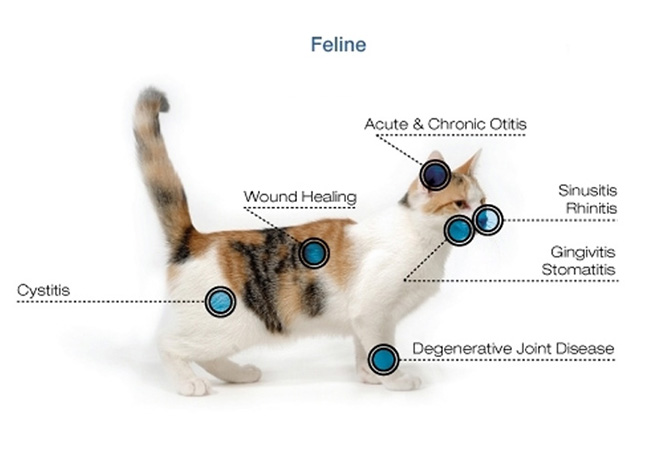 Laser Assisted Rehabilitation Explained:
Animal Rehabilitation works much like human rehabilitation. Using Laser Therapy, veterinarians are able to implement rehabilitation treatment plans to restore mobility, strengthen muscles and joints, and help animals heal faster post-operatively while focusing on reducing pain. Laser Therapy may begin prior to surgery, following an injury, or upon referral for a limb deformity. But it is most successful when laser therapy treatments are integrated and coordinated from the beginning, when the initial injury occurs and prior to a surgery being performed. Maintenance laser therapy can be used post rehabilitation to assist continued mobility, strength and fitness The power of the therapeutic laser matters in terms of the dose delivered, and the time needed to deliver the treatment dose. Power is a unit of time, and is expressed in watts (W) or milliwatts (mW). One watt is one Joule of energy delivered per second, and the laser dose is typically expressed as Joules/cm2 – the energy delivered over a surface area. The most commonly used therapeutic lasers in veterinary medicine are Class III lasers, which may deliver energy from 1mw to 500mw, and Class IV lasers, which deliver power at greater than 500mw. A lower watt laser provides less energy delivery to deeper tissues so the time needed to deliver a treatment is longer. A lower power laser is better suited for treating superficial structures because of the limited power density to drive photons into the deeper tissues. A higher watt laser allows the treatment to be delivered over a shorter period and involves administering the laser energy with a sweeping motion over the affected area. This sweeping motion will provide more complete coverage of the treatment area and may cover surrounding areas that could be causing secondary or referred pain. Pulsing of the laser beam may provide less heating of tissues at the surface while allowing for an adequate level of energy to reach the deeper target tissues, but more research is needed to define the optimal approach to a pulsed laser beam.
High Power(Watts) Lasers typically Improve These Conditions, Including:
Arthritis (Degenerative Joint Disease)
Back Pain (Intervertebral Disc Disease)
Trauma (Skin, Muscle, Bone)
Wounds (Trauma)
Surgery (Incisions, Growth Removals, Bone Surgery)
Inflammatory Conditions:
Acute or chronic otitis (Ear problems)
Anal Gland inflammation
Hot Spots
Lick Granulomas
Idiopathic Cystitis – (Bladder Inflammation)
Sinusitis, Rhinitis (Nasal problems)
Introductory Videos of Vets1Laser
Biological Effects of High Power Laser Therapy
Accelerated Tissue Repair And Cell Growth – accelerate cellular reproduction and growth. Cells of cartilage, bone, tendons, ligaments and muscles are repaired faster as a result of exposure to laser light.
Reduced Fibrous Tissue Formation – Laser therapy reduces the formation of scar tissue following tissue damage and acute and chronic inflammatory processes.
Anti-Inflammation – Laser light therapy has an anti-inflammatory effect, causes vasodilation and activation of the lymphatic drainage system, reducing swelling caused by biomechanical stress, trauma, overuse, or systemic conditions.
Analgesia – Laser therapy has a beneficial effect on pain through the suppression of nerve signal transmission over unmyelinated c-fibers that transmit pain to the brain. Another pain blocking mechanism involves the production of high levels of pain killing chemicals such as endorphins and enkephalins from the brain and adrenal gland.
Improved Vascular Activity – Laser light will significantly increase the formation of new capillaries (angiogenesis) in damaged tissue that will speed up the healing process.
Increased Metabolic Activity – Laser therapy creates higher outputs of specific enzymes
Improved Nerve Function – accelerates the process of nerve cell regeneration and increases the amplitude of action potentials
Immunoregulation – stimulation of immunoglobulins and lymphocytes
Stimulates Trigger Points and Acupuncture Points – stimulates muscle trigger points, restoration of muscular tonus and balance
| | |
| --- | --- |
| Laser Type | GaAlAs Diode Laser |
| Wavelength | 810nm+980nm |
| Maximum Power | 15watts+15watts |
| Operation Mode | CW, Single Or Repeat Pulse |
| Pulse Duration | 10us- 3s |
| Repetition Rate | 0.2Hz- 50KHz |
| Pilot Beam | Red Diode Laser Of 650nm, Power<5mW |
| Control Mode | True Color Touch Screen (7 inches, resolution 600*1024) |
| Transmission System | Medical Fibers With SMA905 Connector |
| Dimensions | 160(W)*180(L)*235(H) mm |
| Weight | 2.1Kg |